In a survey conducted by Studying-in-Germany.org, a majority of potential international students agreed that they would, in fact, consider pursuing a German degree through means of distance learning programmes. Distance education has become quite popular in the past years, only to increase in popularity as a result of the coronavirus pandemic. Online degrees have numerous advantages, which is why their popularity increase can be considered a good thing.
Our survey asked a total of 2,324 potential international students whether they would consider getting an online German degree, to which a majority of 74.7% claimed that they would. This percentage is not surprising at the time when the need for flexibility due to tight schedules has become so enormous. Alternatively, the remaining 25.3% said that they would not consider the option of online degrees.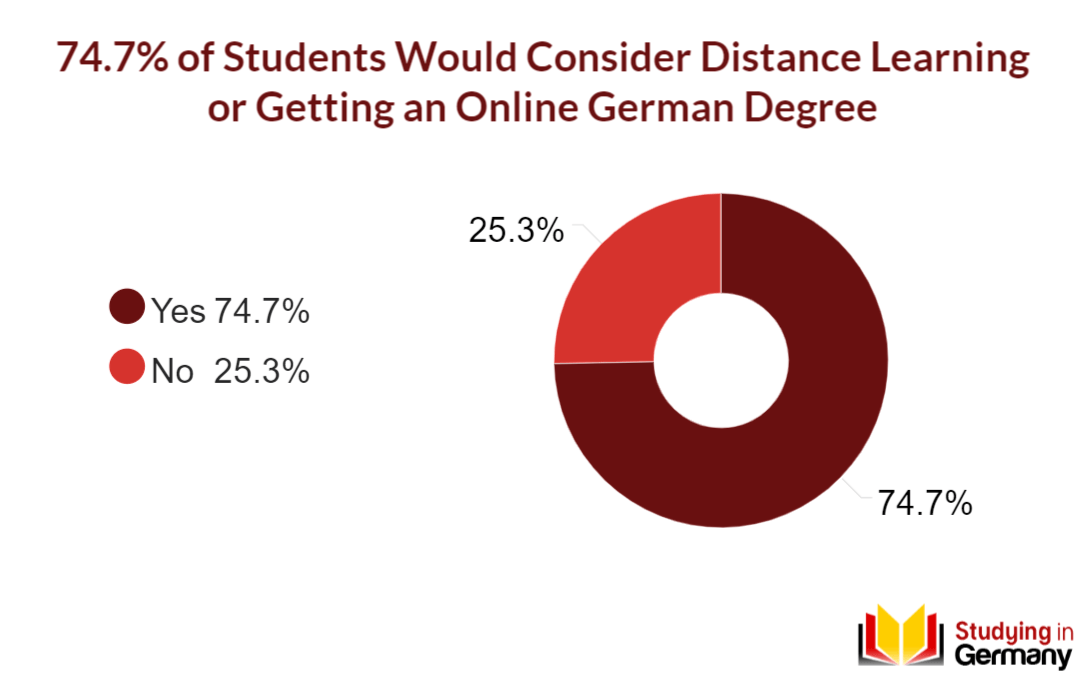 Through the survey, we wanted to find out what is making online German degrees/distance learning, so appealing to students. Although there is a wide range of advantages to studying an international degree through a computer screen, respondents of our survey went through a set of reasons as to why they would choose to pursue a degree online, with a large percentage being attributed to flexibility. Find the percentages below:
The percentages show that apart from flexibility (11.5%), the lower costs which come with the pursuit of an online degree also play a part on why students would choose to study a course online (9.7%). The total number of students who answered with "all of the above" is also quite significant, as it stands at 67.7%. While the three first options are the main advantages to online courses, 2.8% of respondents named their own reasons why they would choose an online degree.
Respondents of the survey said that the current coronavirus pandemic is also a factor why a distance learning course/online German degree would be their first choice, since they believe it is the only way to avoid exposure to the pandemic. Students, especially during the past few months, have become quite accustomed to learning online, since only a small number of students had experienced distance learning, or online classes, before the pandemic.
On the other hand, 25.3% of respondents who said they would not consider an online degree also had their reasons for thinking so.
According to the results, one of the main reasons why students would rather go for traditional classes is because they feel they are more efficient than online classes (44.2%) and that they prefer traditional classes to a greater extent (15%). Other reasons revolve around campus life (31.3%), as well as socializing (6.1%), which students cannot experience through online classes. In addition, a challenge such as poor internet connection in certain areas, is also among reasons international students would not commence an online degree programme.
The results are somewhat anticipated, taking into account that one of the major reasons international students choose to study in Germany is not simply the quality of education, which is unmatched, but also the experience they have in a country where cultural, social, and academic life simply thrives. Not to mention the numerous employment opportunities this country offers due to its industrial development.
Higher education institutions in Germany are renowned for their expertise and academic qualities. International students are also largely satisfied with what these institutions offer with regards to skill sets and preparation for the labour market after graduation. Education providers in Germany are known for their mission to place student needs at the top of the hierarchy, which makes them highly-reliable and efficient.
Due to digitalization, international education has become simpler than it used to be in the past. Germany, valued for its education system and quality of teaching, has made its academic experience accessible all over the world. Students get to choose from different distance learning methods, with or without online live interaction with students and peers; and blended learning where digital study and the traditional classroom are combined to meet student needs.
As a result of the coronavirus pandemic, a digitalization of education to today's extent has been accomplished earlier than expected. What used to be a plan for the future has now become a reality worldwide, not only in Germany. Students as well as teachers have been introduced to a new way of learning and university, college, and school 'campuses' have really never been closer than in 2020.