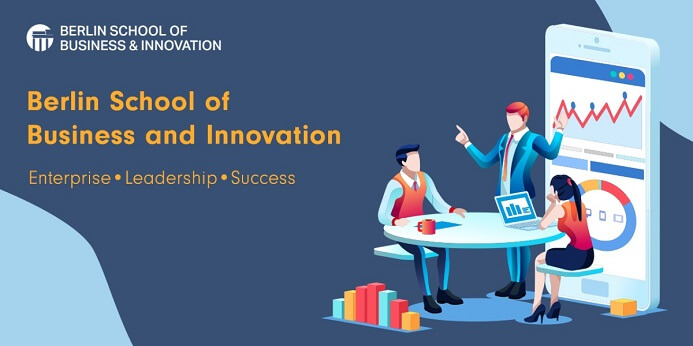 We prioritise three concepts: Enterprise | Leadership | Success
All our courses reflect these concepts ensuring that course programme enhances your business skills and knowledge of industry. You will be given the tools and the information you need to succeed as well as plenty of support from our academics who have tonnes of expertise in their field.
We place emphasis upon a hands-on teaching method and on our courses you'll hear about case studies and engage in class discussions. We also take students to exhibitions and invite guest speakers. The practical experience you gain on our courses will allow you to apply your skills straightaway in your career.
We also have a helpful careers department which was established to offer students much-needed guidance. Furthermore we offer German language classes to boost our students' employability.
Important Information
BSBI recognises that many countries have been impacted by lockdowns put in place to prevent the spread of coronavirus and as a result of these, restricted services. This might mean you have been unable to obtain your visa or fly to Germany. As such, our hybrid learning plan offers you the chance to start your studies online and travel to Berlin at a later date, once you have obtained your visa. Alternatively, if you are unable to obtain a visa due to the crisis, you will be able to defer to a later intake: February, May and October 2021.
Courses:
BSc (Hons) Business and Management
BSc (Hons) Digital Marketing and Social Media
BA (Hons) Tourism and Hospitality Management
Global MBA
MSc Finance & Investment
MSc Digital Marketing
MA Tourism, Hospitality and Event Management
MSc in International Health Management
Master's in Business Administration (MBA)
MA in Innovation and Entrepreneurship (MAIE)

Apply Now!
Our courses are ideal to kick-start your career as a business leader in today's globalised world.
Great Minds video with Farazad Investments CEO:
Testimonial from India:
Testimonial from Greece:
Top reasons to study with us
Central City Location
BSBI is fortunate to be situated in the heart of Berlin, Schöneberg, a bustling part of town with excellent transport links as well as many green spaces for you to unwind. Right on the campus doorstep, students have access to a range of shops, restaurants and cafés.
There are also some top corporations around such as Sony, Deutsche Bahn, Daimler and more.
Berlin – Europe's start-up capital
Berlin has many advantages over its European counterparts, placing it as a top European destination to study in for learners from around the world. One of the main factors for this (other than high-quality education) is probably that financially it's cheaper than other cities on the continent. Although German is spoken here, English is also very common, making this city accessible to all, no matter where you are from.
The city also has a fantastic start-up scene across a range of sectors which is why entrepreneurs of all nationalities have made the city their home.
Dedicated career and employment support
Whatever you need, online resources, information on peer support schemes, career workshops, interview tips, feedback on job applications, we provide all this and more. Just pop in and say hello!
Academic Qualifications
Upon successful course completion, you'll get a qualification from the renowned European institution: Università Telematica Internazionale Uninettuno.
Academic excellence
Our unique learning model means that you only need to take classes two days a week, leaving you with three days to study further, work or whatever else you need to do.
Online study support via the Virtual Learning Environment (VLE)
The Virtual Learning Environment (VLE) plays a big role at BSBI. This is where students have access to a virtual classroom and can learn fully online.
Everything we offer at BSBI is to help you become a perfect career-ready candidate.

Apply Now!
Our courses are ideal to kick-start your career as a business leader in today's globalised world.