Once an entirely sovereign state under the Hanseatic League, the federal state of Hamburg is now home to over 1.8 million people and the largest city in Germany. Known as "the gateway to the world" is owed to the cities prosperity, a major transportation hub and an industrial engine combined all together and promoted by influential media, Hamburg makes for a highly organized and standardized city to live in. Thousands of successful companies operate in the Hamburg area which makes for an important financial impact in the economy of the city as well as the whole country.
The second largest port in the world is the port of Hamburg, and it is said that if you've never experienced a boat trip starting from the port, riding in the serpentine watery streams enjoying every bit of Hamburg upfront you've never actually been to Hamburg.
Hamburg's ancient culture and tradition is evidently depicted through the many residencies and buildings carefully preserved throughout the course of history, letting the tourists see its transformation and bits and pieces of the modern city it was in every period of humanity. A walk through the old town, a glance over Speicherstadt, a historical venue of brick warehouses in contrast with the contemporary entity of HafenCity, the city center, makes for a linear progressive fusion of hamburgers development.
Factually, Hamburg seems to have 2300 bridges, more than Amsterdam and Venice combined. Along with the bridges, there are numerous green spaces, some even used as recreational venues which is considered a true wealth among the people who live in the area.
Besides being the center of trade between Northern and Eastern Europe, the Port of Hamburg has turned into the greatest tourist attraction in the region. The two rivers that flow, following city streets are surrounded by fine restaurant, beautiful little shops and flowery gardens that give an impression of peace and serenity.
The main city attractions would be boat touring around Elbe streams, no matter how you are strolling around in some fancy yacht or some really jacked boat the experience stay the same, unforgettable. A visit to the notorious St. Pauli street along the most sinful mile as they call it of the Reeperbahn red light district , is the top nightlife charm  of the city as there are several best-in-town restaurants highly recommendable by the fine-dining jury right in these sinful alleys.
Culturally, Hamburg is home to over 40 theaters, Hamburg state Opera and the world famous John Neumeier's Hamburg ballet along with over 30 cinemas, around 60 public and private museums each of them offering something for the indisputable different tastes of its civilians.
Nightlife starts and ends around the st.Pauli street featuring numerous clubs and artsy galleries that gather sinners into sinfully amusing themselves with the challenge and awe of darkness.
As every other city in Germany that takes pride in their very own customs and traditions, there are several events during the year that celebrate the honor of being a German, and everyone is welcome to join.
Shopping is another rather peculiar attraction in the city as you can treat yourself with the finest inventions in the fashion industry, or simply get clothes to cover yourself; you can even combine both chic and kitschy into some other, heavenly and inspirational clothing adventure and challenge the societies comfort zone.
Another memorable experience once you starts exploring the incentives of this great city is getting to see animals up-close in the Tierpark Hagenbeck, yet this time they are not held in cages like prisoners but rather a perfectly natural environment is created by the institution so both sides, the people and the animals can enjoy the symbiotic pleasure of living in an urbanized environment.
When in Hamburg it's very difficult to find a true hamburger as everyone has a different origin and a different cultural perspective to share.
Universities in Hamburg
Concerning post-secondary education level, there are 16 university-level institutions, public and private that offer prospective students a varied and challenging decision to make when it comes to profession. As much as it's a cosmopolitan and cultural city, Hamburg can be scientific too. From philosophy, to medicine and social media, Hamburg offers a great alternative for students that wish to expand their horizon's while living in Hamburg.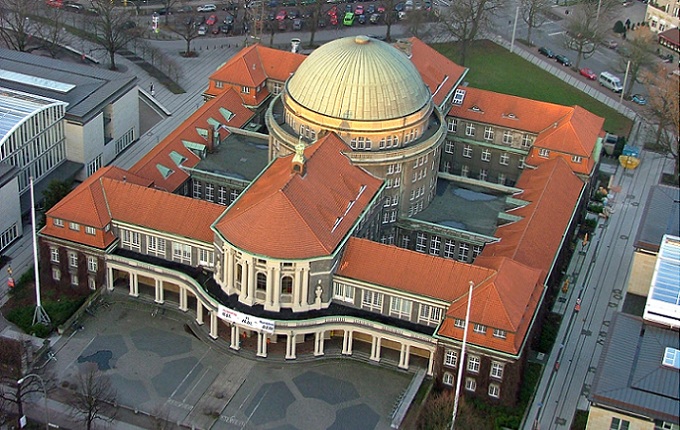 University of Hamburg
University of Hamburg is the biggest research and education institution in Northern Germany and one of the most extensive universities in Germany. The main campus is located in the central district of Rotherbaum, with affiliated institutes and research centers spread around the city state. Students can choose from a 149 different majors which are offered by six faculties. With almost 700 professors engaged in teaching and research, the University of Hamburg is the largest in Hamburg. In addition, over 3,600 academic staff and 6,100 administrative and technical staff members are employed in the university.
More information about University of Hamburg can be found at http://www.uni-hamburg.de/index_e.html
Hamburg University of Applied Sciences
Hamburg University of Applied Sciences was founded in 1970 as the Fachhochschule Hamburg. Four engineering schools and six vocational schools were brought together with the goal to develop a new form of higher education. The focus was to be on the application of knowledge, with degree programmes that included placements in industry, laboratory work and practice-related projects.
Students can choose from the following faculties:
Engineering and Computer Science
Life Sciences
Design, Media and Information
Business and Public Management
Social Work and Nursing
More information about Hamburg University of Applied Sciences can be found at http://www.haw-hamburg.de/english.html
Technical University Hamburg-Harburg
Instead of traditional faculties, the TUHH has separate administrations for teaching and for research: research is conducted in departments, teaching is divided into schools of study. Scientists from different subjects work together in the departments. Curricula are organized by academic specialty, depending on the course of study followed.
More information about Technical University Hamburg-Harburg can be found at https://www.tuhh.de/alt/tuhh/startpage.html
Helmut Schmidt University
The German military educational establishment that was founded in 1973 at the initiative of the then-Federal Minister of Defense, Helmut Schmidt is known as University of the federal armed forces. At the Helmut Schmidt University there is a specific organizational structure, in addition to the division between the areas of teaching and administration that is common to all universities. The academic division takes care of teaching and research, to which end it maintains 4 faculties.
Electrical Engineering Faculty
Mechanical Engineering Faculty
Humanities and Social Sciences Faculty
Economics Faculty
More information about Helmut Schmidt University can be found at http://www.hsu-hh.de/
HafenCity University
The HafenCity University Hamburg  is the only university of its kind in Europe. The education and research at the HCU Hamburg aims on contemplating and concretizing what the future of metropolitan areas could and should look like. Coping with this future will, however, require a systematic interdisciplinary as well as transdisciplinary approach. For this reason, the HCU offers the entire range of disciplines required for understanding and designing the urban environment:
Architecture, Civil Engineering, Geomatics, Urban Planning
Metropolitan Culture
Urban Design and Resource Efficiency in Architecture and Planning
More information about HafenCity University can be found at https://www.hcu-hamburg.de/en/
Cost of Living as a student in Hamburg
Since it is a financially empowering region, the standard of living tends to have risen a bit yet Hamburgers can afford that due to a flattering paycheck. However when it comes to students, it might be a bit challenging to finance your stay in this city but never impossible.
How you manage your monthly budget totally depends on your lifestyle: sacrificing a bit here and there might bring several pleasures which otherwise you wouldn't be able to afford.
Firstly there are no tuition fees when studying in a public education institution in this region. Students are however bound to pay a sum of around 300 euros as a semester contribution which allows students free access to public transport all year round.
Renting an apartment in Hamburg is actually the most expensive thing for a student's therefore, University dormitories/residencies are a far better and more affordable alternative.
Rent majorly depends on the district; normally city center is very expensive and the further from the center, the cheaper the rent.
Apartments in the center
One bedroom 500-800 euro
Three bedrooms 1500-2000 euro
Apartments outside the center
One bedroom 400-600 euro
Three bedrooms 800-1400 euro
Monthly utilities for a bigger apartment are around 200 euros while internet connection will cost you somewhere between 20-30 euros on a contract.
Depending on the choice you make, eat inside or eat outside you will be noticing a great fluctuation in the overall budget. Everything bought from the market is at least 3 times cheaper and 10 times more than eating outside in some budget restaurant/joint. For a decent meal, a dinner for two will cost you around 30-60 euros.
Market prices of daily items:
Bread (ordinary, white) around 1.5 euro
Milk costs less than 1 euro
Water is 50 cents a bottle
Eggs, a dozen for 2.5 euros
Apples and other fruit, around 3 euro per kg.
Cigarettes, 5 euro a pack
Beer, domestic less than 1 euro.
A beer in some random pub, domestic of course will cost you 3 euros minimum meanwhile café latte 2.5 euros and higher, depending how fancy the place is.
Things to See in Hamburg
Miniatur Wunderland
Park Planten und Blumen
Hamburg Port
Town Hall
Warehouse District
Reeperbahn – St. Pauli
Hafencity
Phantom der Oper
Fish Market
Jungfernstieg
Things to Do in Hamburg
Imagine dining in total darkness with a complete stranger. An adrenaline thrill only in Dialog am Dunkeln.
Chocoversum offers to indulge you in the world of chocolate. Drink a lot of water.
Enjoy Hamburger dom, the biggest festival in the region. It only happens three times a year.
Rent a bike and follow the Hafenerlebnisroute – a trail leading through the labyrinth of freighters and containers.
Spend a day relaxing and sunbathing at Elb-beach.
Hagenbecks Tierpark offers an exclusive encounter with the wilderness.
Maritime circle line is a must-do tour to give you a glimpse of what you'll be facing in Hamburg.
Enjoy the famous Lion King musical in the theaters.
Radioactive nightlife in one of the wicked club in town, the Hafenklang.
Oberhafenkantine offers some truly traditional dishes cook with pieces of the host's heart in it.
Weblinks about Hamburg:
Join 79,959 other students interested in studying in Germany and get regular emails sent to your inbox with helpful articles about studying in Germany, latest news and many scholarship and study abroad opportunities and offers...
Enter your personal email address below:
Your information is 100% safe and will not be shared with anyone else. You can unsubscribe with one click at any time.